Art Finlayson 1938 - 2023
With heavy hearts...
July 04, 2023 | By Vancouver Island Chapter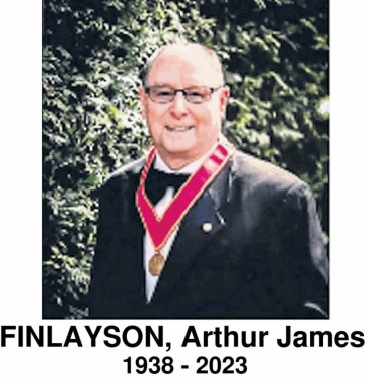 **Art was a charter member of the Vancouver Island Chapter, and showed his continuous support by regularly attending our chapter events with his staff**

It is with extreme sadness that we announce the passing of Arthur James Finlayson, cherished husband, father, uncle and grandfather on June 22, 2023 at age 85.

Arthur leaves behind his loving wife of 59 years, Marilyn, his son John (J.V.) Vincent Finlayson (Deborah) and sons Connor and Cole; and his daughter Christine Leigh Campbell (Colin) and children Taylor and Robert (Robbie).

Brother to John Finlayson (Judi) of Duncan, BC and Wendy Hanley (Brian) of Calgary, AB. Predeceased by his parents, James (Jim) and Lorna Finlayson. Art was a wonderful husband, father, brother, grandfather, and uncle, making everyone around him feel like they were the most important. His grandchildren and many dear nieces and nephews were so special to him.

Art was born in Regina, SK on June 18, 1938. He moved with his family to Calgary in 1949, where he grew up 2 houses away from the love of his life and best friend, Marilyn. Art graduated from Montana State University in Architecture and enjoyed an extensive career, as both a partner and principal.

Art moved with Marilyn to Sidney, B.C. and started Art Finlayson Architects, later to become Finlayson Bonet Architecture, always working with a wonderful group of people who felt like family. He reluctantly retired at 82, due to changes in his health. During his extensive career. Art designed a multitude of residential, commercial, and industrial projects across Canada, leaving a true legacy.

Art was honoured with the Lifetime Fellowship Award from the Royal Architectural Institute of Canada in 2020, as well as the Saanich Peninsula Chamber of Commerce Lifetime Achievement Award in 2017. Art was an active member of the Saanich Peninsula Chamber of Commerce, as well as a long-time volunteer at Heritage Acres - Saanich Historical Artifacts Society.

Art loved people, and his positive approach to everything made everyone love him. He appreciated all sports and loved travelling. As an avid sailor. Art enjoyed many chartered sailing trips with friends, family and the "Prairie Buoys" sailing group.

A life well lived, with not a wasted minute. We celebrate the life of an incredible man with the most positive outlook. A wee toast in his honour - he was one of the great ones and will be dearly missed.

A private family interment at Royal Oak Burial Park Victoria will be held, and Celebrations of Life will be announced in both Sidney and Calgary. In lieu of flowers, please consider a donation in his name at either the Saanich Peninsula Hospital, Royal Jubilee Cancer Clinic, or the Saanich Historical Artifacts Society. His family also wish a sincere thank you to Dr. Law, Dr. Drew McKinstry, Dr. Lewis and the wonderful staff at both the Saanich Peninsula Hospital and The Royal Jubilee Cancer Clinic for their remarkable care.